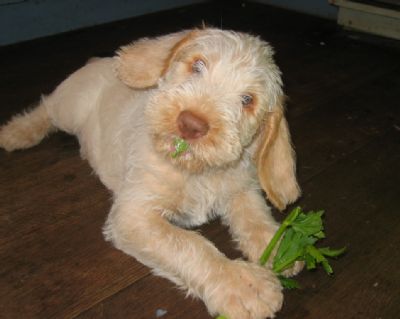 Welcome Spinonista!
"A Spinone for you, a Spinone for me, but not for everyone" is an old Italian saying about this ancient breed. They are not the breed for everyone, but they are for us. We are enthusiasts (Spinonista) from Melbourne, Australia who by chance met the Italian Spinone at the Melbourne Royal Show in 1994. In February 1995 we had our first Spinone and have never been without one since. We breed occassionally under the Piedimonte prefix. Piedimont is the region in Italy where the Italian Spinone hails from
Spinone (singular) Spinoni (plural) pronounced Spin-non-ee
We are planning a litter later in 2019 with our beautiful Sylla,
Ch Craigsraven Sylvana imp NZ. & Ch Kevardhu Soly imp UK.
We always love to talk Spinoni!
Breed & puppy enquiries are always welcome.

Dogs VIC Member - 3002306790
Please contact Dogs VIC on email: [email protected] to verify my membership.
Contact Details
Heather Miles
East Ivanhoe, VIC, Australia
Phone : 03 94972169/0417328732
Email :
[email protected]
66505 Visitors